Flow measurement is a key measurement for many Industrial plant, be it from water abstraction and discharge licences through to process control measurement. The difficulty facing many users is the annual maintenance and checks to prove that the flowmeter is still measuring accurately. In many cases the flowmeters cannot simply be removed and sent away for calibration as the process still needs to operate.
Our trained KCS service engineers, using the new ABB SRV500 Ability verification for measurement devices, can meet these requirements in process monitoring applications.
The SRV500 is the latest verification product from ABB who pioneered in-situ verification for electromagnetic flowmeters with its CalMaster and CalMaster2 solutions in the 1990's. These verification products can verify a flowmeter's accuracy without the need to remove the instrument for calibration, offering significant savings in time and cost. The simple process involved the flowmeter itself to be taken offline for 30 minutes for the verification test to be performed.
Whilst the Calmaster products were dedicated to the magnetic flowmeter products, the new SRV500 can verify a range of ABB flow metering products including: –
FEP 300/500 ProcessMaster/HygienicMaster
FEX 100 WaterMaster
FET6XX ProcessMaster/HygienicMaster
AquaMaster2, AquaMaster3, AquaMaster4,
MagMaster
AquaProbe
CoriolisMaster
FSV430/FSS430 Vortex / Swirlmeter
FSV450/FSS450 Vortex / Swirlmeter
SensyFlow HART FMT500 Thermal Mass
FMT2XX/4XX Thermal Mass
Other products in the ABB range that can be verified using the SRV500 include: –
LWT300 Guided Wave Radar
LMT100 Magnetostrictive level
LLT100 Laser Level
266 PdP Pressure transmitter
TTX300 Temperature Transmitter
EDP300 Positioner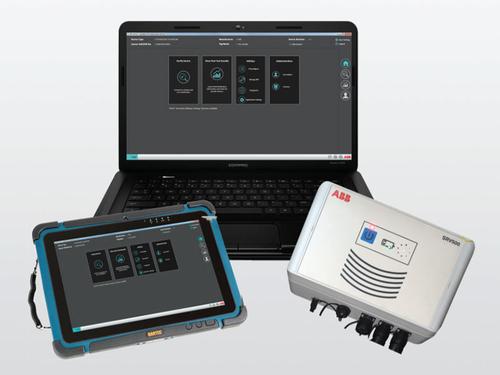 Verify and Maintain 
Performing regular flowmeter verification allows customers to maintain their processes with a level of confidence. While it is important to remember that verification is not calibration and does not provide a certificate in conformance with ISO17025, it nevertheless provides an effective starting point for determining if calibration is required, enabling operators to be confident that their flowmeter is operating at optimum performance.
If you would like further information on the SRV500 verification software fill in the form below and one of the KC Service team will be in touch.